One Mighty Family may earn a commission for purchases made after clicking links on this page.
Learn More.
The Beginners Guide to family camping
Family camping is one of the best ways to spend time together as a family if you ask us. Its quality time where everyone is outside and WiFi is scarce, making it easier for all of us screen addicts (*raises hand and admitting that this is me) to be in the present. Its the perfect way to look each other in the eyes and connect.
I have been camping since I was five weeks, and our kids have all been spending all of their naps outside during the day (everyday without fail – this is a Danish thing), and we have been camping with them before they have been 6 months.
We are both scouts and have been hiking and camping for the past 25 years. While this gives us a lot of experience with tent camping in general, there were some things we had to relearn when we became parents 9 years ago. Through trail and error, and lots of trips over the years, we have jet to face a challenge that is to great to handle when we go camping.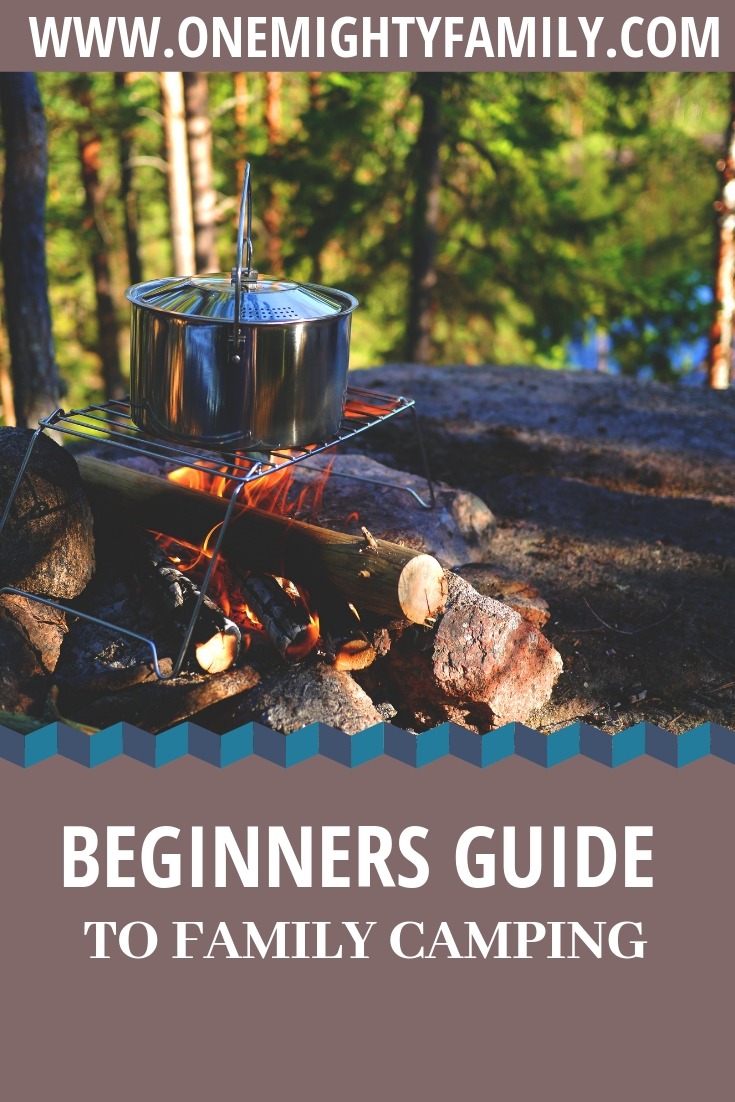 What is family camping
Family camping is an outdoor activity, where you make a temporary camp and a shelter outdoors. You can go camping with an RV or with a tent. There are lots of different gear that you can buy to make camping even more comfortable for you. Family camping is the same as camping, only done together as a family. Here at One Mighty Family, we always talk about family camping even when its just written as camping.
Family camping is not for everyone, and some of the things that people often note about camping is that it is dirty – dirt gets in everywhere. It can be miserable if its raining all the time. Its lots of work, and it can be smelly – think kids and adults sitting around the fire and may or may not have access to a shower.
Okay – that is all true. But here is the thing – if that bothers you to much, it is probably not for you. If you like just being together, and you believe that kids can be washed and you believe that it has value to sit together in the rain and just spend time together, you will LOVE camping.
How to get started with family camping
Now I don't want to be smart, but I saw this picture the other day said "go outside and stay there until morning". It can be as simple as that 🙂
Of course, its not as simple as that. You want to know where your shelter will be, and how everyone will sleep. If you have NEVER been family camping before, go easy on yourself. Stay in the backyard. Consider renting an RV and stay the night in a local campground that has toilets and showers. Keep it light and keep your ambitions low. There is no need to go with camping with all of the best equipment on the very first trip.
When you have been on your first trip and you are ready for more, you might want to consider investing in some equipment. You can find our guide to finding our family tent here, you can find a guide to different family tents here. You can find our guide on what to look for in a sleeping bag here, and what to look for in a sleep pad here. We have a full guide on where to find plus size outdoor clothes here, and a guide on what we always bring when we go camping here.
You will need to consider the season of when you go camping. You can find our full guide for winter camping here, and our guide to layers here.
You also need to consider food, bring some simple snacks, but lots of them, and have some simple meals that are easy to prepare. Maybe some activities to ensure that everyone is having a good time. Think of your favorite game to play as a family, and then bring that with you.
Tips for Success with family camping
If you want to go camping, just do it. Make it happen. While you can just wing it, I suggest that you do a little research before you head out.
Look for a campground with toilets and showers, and maybe even a playground and other activities for the kids.
Don't plan for to long. The first time you go should not be a 2 week vacation. Go easy on yourself and test if this is a way you like to spend time together.
Prepare all meals. If you do not want one of the adults to do food all day, everyday, you should think about ways to prepare some food, or at least keep meals light.
Bring enough clothes. There will be puddles that needs a good jumping session, and dirt that will be all over the place. An extra set of clothes will come in handy.
Make sure everyone sleeps well.
All in all, if this is the first time you go family camping you might want to consider some of the same things that we suggest for camping with toddlers.
Common Questions About Family Camping
What do you need for family camping

Whats the best family camping tent

Can you go family camping without a car

There are a lot of pretty campgrounds that you can access with either bikes, or going by train and bus. You need to be willing to carry the equipment, and maybe even invest in a wagon of some sort, but it is completely doable. Research where you want to go is the most important thing I would say.

How to pack for family camping

As light as possible, but make sure you bring everything so that you are prepared. How is that for vague 🙂 Lets just say that it depends on the seasons. We have a guide on what to think about when using layers to keep  you warm.

What to eat when you go family camping

How to plan for a family camping trip

To plan a family camping trip you need to go through your trip mentally. How many days will you be gone, how many meals do you eat or day, and how will you sleep. Those are just a few of the questions that will help you prepare everything for a family camping trip.
The Last Thing You Need to Know about Family Camping
Family camping is a blessing. I love sitting by the campfire no just do nothing but listen to the kids talking about their day.
Family camping can also be a very social activity. Depending on the type of camp ground you choose, you will meet lots of people that all love the great outdoors, just like you!
Have you been camping with your family jet?? comment below with your best tips for family camping! I can't wait to hear from you!
until next time
Malene.