Freshly baked bread on a camping trip is a delishious addition to any meal. You can serve it up as a fun "make yourself snack" for the kids, or you can bake a big bread in a dutch oven. In this post you will learn different ways to bake bread, on a campfire, while you are camping.
We really like to bake homemade bread when we go camping. On the 3rd or 4th day, the bread you brought from home can be stale. Baking over a campfire is not hard, once you have done it a few times. In this post I will tell you everything I have learned about it, and I am sure that you will be able to produce brilliant breads for your family next time you go camping.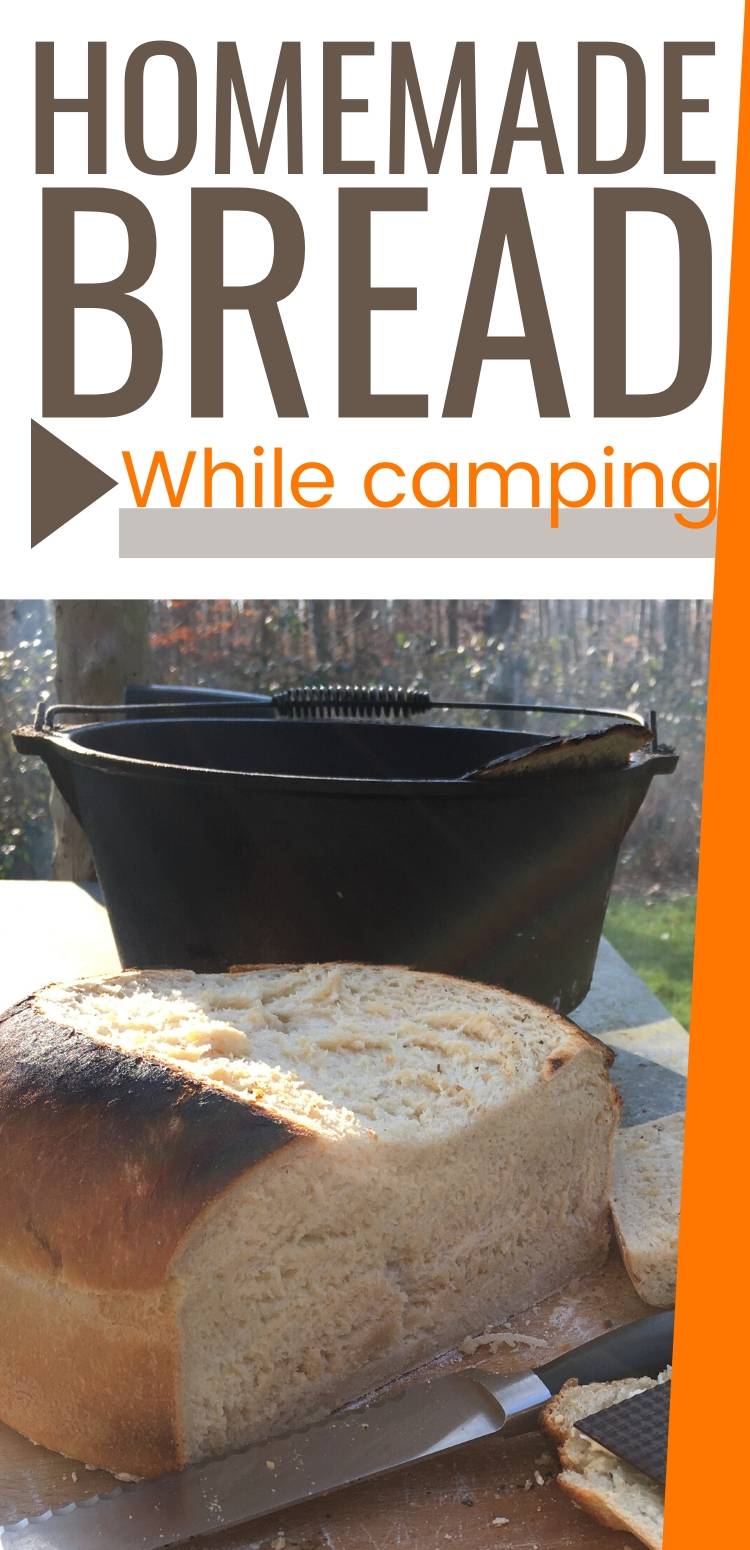 Baking bread while camping
One of the bigger obstacles for me when making bread on a camping trip is how to knead the bread without my favorite kitchen stand mixer. It is completely doable to make great bread if you start the night before, and use the dough recipe from the best crusty bread recipe. That is a no knead bread recipe that will work very well for this. If you want to make right now, you can use the simple bread roll recipe, and be happy that you get a work out along with freshly baked bread.

TIP: You can make the crispy Bread recipe in a zip lock bag. Stir everything together inside the bag. Close it, but with plenty of Air inside the bag. Next morning you can procead like in the recipe.
If Im baking bread on the campfire close to home, i usually bring a batch of dough from the simple bread roll recipe. That works really well, all ways of cooking over campfire.
Baking campfire bread in a dutch oven.
One of the ways that I like to make bread is in a dutch oven. Here is a great dutch oven for camping if you dont have your own jet. I use half of the dough from the simple bread rolls recipe. Once the campfire is ready and have burned for a little while, leaving embers in the fire, you can bake bread.
Place your bread, on a trey inside your dutch oven. We raise this tray from the bottom of the dutch oven with 3 pieces of salt dough. Ensures that there is air circulating around the bread.
TIP: Its easy to get excited and add to many embers to the dutch oven – this will make it to hot, and burn the bread. Try and apply the embers evenly around the oven and keep a close eye on it. See full tips for Campfire cooking in a dutch oven here.
Bake the bread for about 20 minutes and keep an eye on it while it bakes. I ususlly check on the bread every 5 minutes, to make sure that add/remove embers where needed.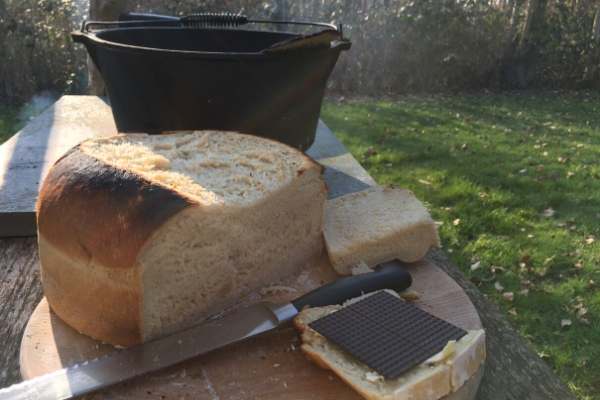 When its done, remove the dutch oven from the campfire, remove the bread from the dutch oven. Lightly knock on the bottom of the bread to ensure that it is baked through. If you hear a hollow sound, its good. Leave the bread to rest a little, if you can. – If not, serve it up, and enjoy.