One Mighty Family may earn a commission for purchases made after clicking links on this page.
Learn More.
This simple bread roll recipe is perfect for beginners just starting out with making your own bread. This is the recipe for you that are wondering how you make bread rolls from scratch. The dough for these simple bread rolls is very forgiving and if you don't want to make rolls, you can use the same dough for a simple white bread.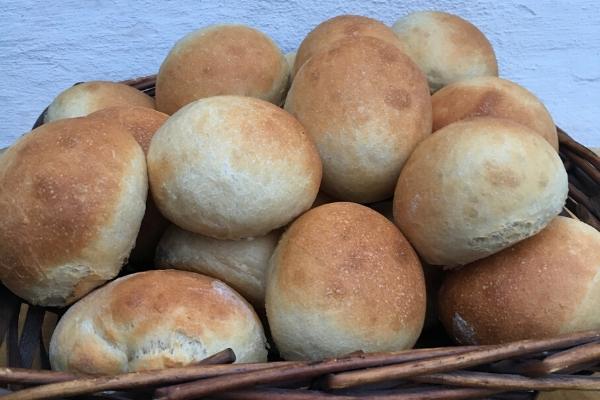 In a house of 6 I bake several time a week – and serve them up for morning snacks, or afternoon snacks, or as a great roll with our chili con carne.
Simple homemade bread roll recipe
This bread rolls recipe is my go to. Its the one I always make, and its a hit every time. I vary the flour from time to time. I add left over oatmeal porridge if I have it from breakfast.
All of the ingredients can be mixed by hand, and the bread will be delicious. I add it all to my kitchen stand mixer and let it take care of all the hard work. This is an expensive machine, but in our house we use it as much as we do the washer or the dryer, and I wouldn't want to be without it.
This recipe adds cold water, but if you add warm water you will have rolls that much faster.
How to store the bread rolls
Making your own bread means that it is made from fresh ingredients and wont keep as long as the bread you buy in the store.
How to store bread on the counter:
We have a bread box where we store our bread when its fresh. The one we have is completely airtight. Many people believe that you should not store bread in airtight containers – I think bread goes stale if you don't. You will need to try both ways to store your bread to see what you prefer. The bread will keep fresh on the counter for a few days.
How to store bread in the freezer
Many people have asked if you can store this bread in the freezer. Yes. Homemade bread rolls like these will keep in the freezer for about a month. Most of the time though they are gone within a few days – and never make it that far 😉
Simple bread rolls
These bread rolls are simple and easy to make. All you need to do is to combine the ingredients, and make sure they are mixed. From initial idea of a bread roll until finished bread can be as little as 1 1/2 hours.
Equipment
Kitchen stand mixer (optional)

Bowl

Measure
Ingredients
1

Pk

Yeast

I use active yeast, but you can use dry yeast

2

tsp

salt

3

tbsp

sugar

2,5

oz

butter

or similar – if you want vegan rolls, just use plant based.

2,5

cups

lukewarm water

make sure its chlorine free

8

cups

flour

full meal or plain as you like it
Instructions
Make sure you have water that is is not warm nor cool to the touch of your little finger. Add yeast, water, salt and sugar into a bowl. If you use dry yeast, stir the mix for about 5 minutes to ensure that you have activated the yeast.

Add butter and about 7 cups of flour, while stirring the mix.

Add the final cup of flour as needed – you might not need all of it. You want to mix to not stick to the sides of the mixing bowl. This can take up to 15 minutes of mixing.

Leave the dough in a warm spot for about 30 minutes, until its doubled in size.

Add the dough to a flour covered table. Knead the dough, and try and push the pockets of air out of the dough.

Divide the dough into 32 equal size rolls. This is done by dividing the dough into two equal piles. Then each of those into two piles, then divide those, and so on, until you have 32.

Roll each piece of dough in your hands. Place the bread rolls onto two oven pans, with 16 rolls on each.

Leave it to raise for another 30 minutes until they have doubled in size.

Lightly brush each roll with water

Bake for 14-16 minutes at 400 degrees F (200 degrees Celsius)
FAQ about making your own bread rolls from scratch
What makes the bread soft and fluffy?
When you make your own bread you want to make sure that you "beat" alot of air into it. Its all about stretching the dough, and adding loads of air pockets into it, that the yeast can work with. When you work with your dough you want to make sure you stretch the gluten so that it sticks together – that is what makes the bread soft after baking.
Why is my homemade bread so dense?
There are two things at work here – either you didn't knead the bread enough. When you make bread you want to make sure you interlock the gluten in the flour. That is done by kneading the dough (or by waiting a long time like I do in this crusty bread recipe)

If you are sure you have done this, then you might have added to much flour. If the dough is to dry, it is not as soft, as dough made with less flour. Next time you bake, try and hold back on the flour.
Why does bread need to rise twice?
It actually doesn't NEED to rise twice. You can bake it after just leaving it to rise once. It does give a more even texture, and the air pockets in the bread are bigger if you leave it to rise a second time.