Campfire building techniques
Campfires is a part of camping if you ask us! There is something calming about looking into a campfire at night, and getting warm after a long day in the great outdoors.
Building a fire is easy once you know the steps of it. Our method is using paper and wood, or just wood, for starting your campfire. Some people use different fluids or other things to keep the fire going in the beginning, but that is really not needed if you choose to gather enough tinder.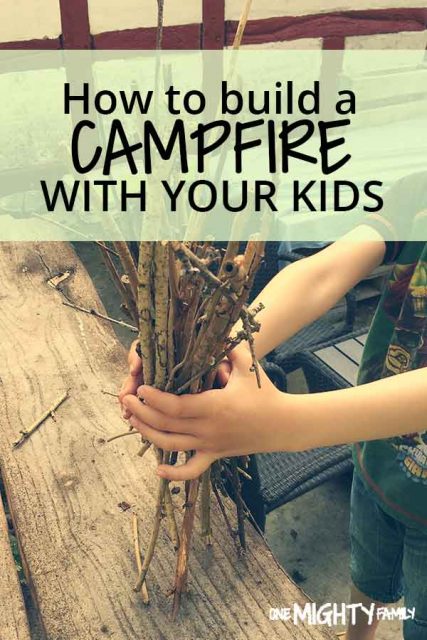 How to make a campfire – step by step:
Collect enough tinder to fill your hands. Tinder should be no thicker than a pencil – the smaller the better.
Collect enough kindling to fill your arms. Kindling should be as thick as your fingers.
Collect some "Fuel". Big pieces of wood that are as thick as your arm.
Take some paper and roll it loosely into a ball.
Create a "tipi" around the paper with all of the tinder.
Stack some of the kindling around the tinder
Stack a few of the "fuel" pieces of wood around the kindling.
Light the paper with a match.
WARNING: Only ever create a campfire in locations approved by the campsite owner. One Might Family is not responsible for your campfire – you must know the rules that apply if you choose to light a fire.
Lets look into how to make a campfire a bit more. I have tried to explain all the steps needed to build a good campfire and I hope that this will give you a good campfire. Please send us a picture of your campfire once you've done it, or tag us at @onemightyfamily on social media.
You might also like: tips for camping with toddlers
How to build a good campfire
To build a campfire you need to build it up with small branches, or small wood chips in the middle and then bigger and bigger going out. The small tinder in the middle should catch the fire for long enough to start fire in the kindling, and the kindling should catch fire long enough for the bigger pieces of wood to catch fire. These are the pieces that give the best heat, and that you can cook on.
Fill your hands with tinder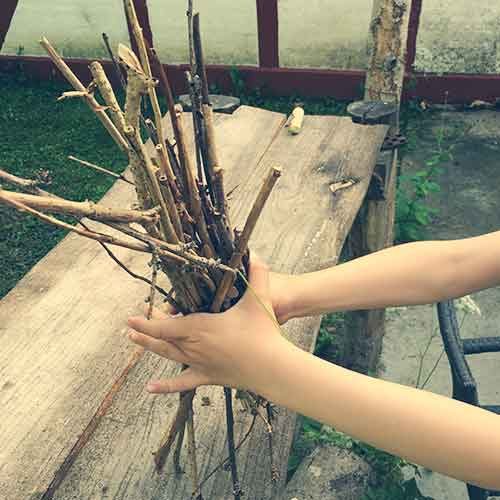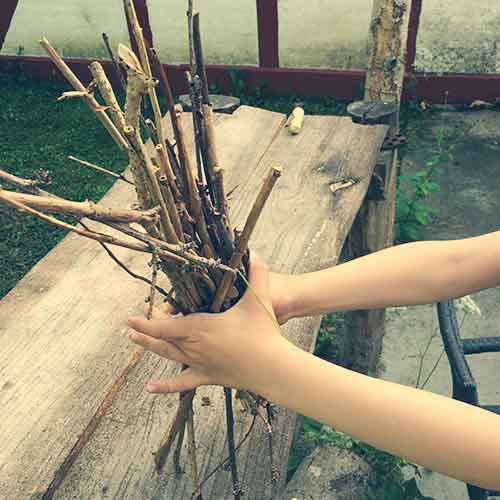 To make sure you have enough tinder to get the fire started, you need to fill your hands with tinder.
This needs to be very dry, about the size of a pencil lead. – ours was a little thick. If you worry they are to big, you can split them with a knife. These will be the very middle of your fire. Place them in the middle of the fire, around some paper if you have it. Old newspaper will do great. The middle here is where you need a match to start the fire.
If the tinder you find are longer than from little finger to thumb go ahead and break them in two, that's what we did. Make sure you stack it like a tepee, with a small opening into the paper somewhere, that makes it easier to start your fire. Don't light it just jet – we need kindling to!
Kindling wood
Once you have the tinder, you need to start looking for kindling. The kindling wood will be stacked around the tinder, and will catch fire next. They should be about as thick as a thumb, and as long as your arm from fingertips to their elbow.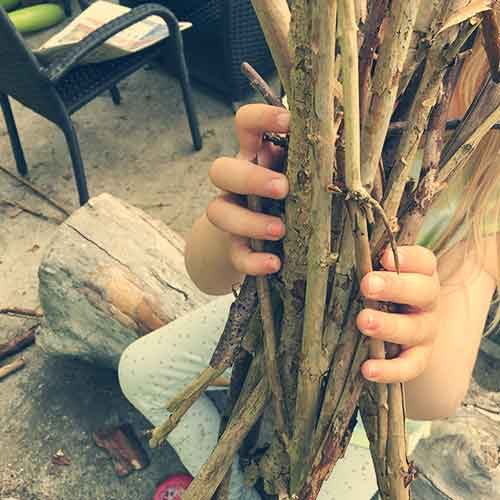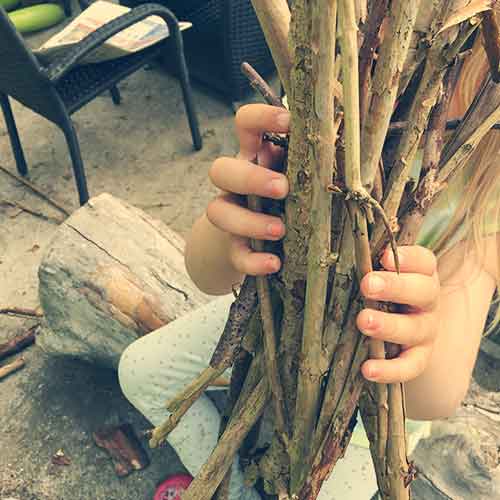 You should have enough kindling to fill your arms completely. Stack some of the kindling around the tinder before you light the fire, but also leave some next to the fireplace to put on later as you go.
This goes on top of the tinder in the tepee. Building from the middle and out in what will become the campfire.
Fuel
Now comes the fuel. These are logs about the size of your wrist and as long as your arm. You can wait to add these until you have the tinder and the kindling going. As the name suggests these pieces of wood are big enough to "fuel" the fire for longer. Once they get going the will burn for about an hour (depending on the type of wood) and they are the logs that you can eventually cook something over.
Now as i see it, the only thing left is making those smurfs – or your favorite campfire food.
When will you be building your next campfire??
Until next time
Malene
This post is all about how to create a campfire for camping, step by step.