Are you looking for an easy alternative to dutch oven pulled pork – then look no further. This is a simple simmer recipe for dutch oven pulled chicken. Its one of those recipes that can sit on the campfire, in a dutch oven, pretty much on its own.
We love pulled pork, but sometimes we want a lighter alternative to that big roast. We love chicken, and decided to make an attempt at making our very own dutch oven pulled chicken.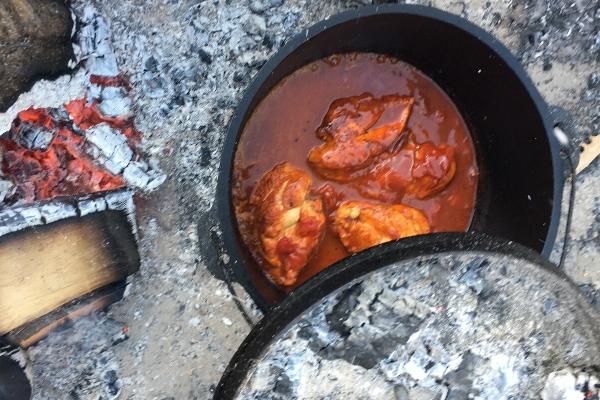 This was such a hit, that I thought I would share this dutch oven barbeque chicken recipe with you.
Dutch Oven Barbeque Pulled Chicken
We made this recipe in our campfire dutch oven. One of my favorite accessories for campfire cooking. You will need a dutch oven, a long spoon to stir it, heat resilient gloves and a great campfire. 
Whenever you cook outdoors you want to be mindful of hygiene. Especially chicken is something you want to keep apart from other things on your chopping board. We usually bring one chopping board for meat and one for greens. You can keep your own system, just be sure that you keep it in mind.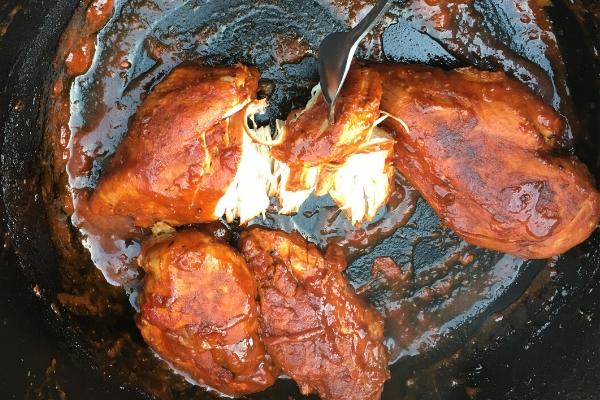 Start by rubbing all of the spices all over the chicken. If you have the time you can leave it to rest and marinade for a little bit.
Add plenty of oil to the bottom of the dutch oven, and add the vegetables to the oven. Add the chicken and stir it over low heat.
Cook the chicken a little on each side, to create a shell on the breasts.
Add tomato, Barbeque sauce, and chicken stock to the mix.
Leave it to simmer over the campfire for about 2 hours. Turn the chicken over, about every 30 minutes. Keep an eye on how warm it gets – it is looks as though its boiling dry, you can add more water to the pulled chicken mix.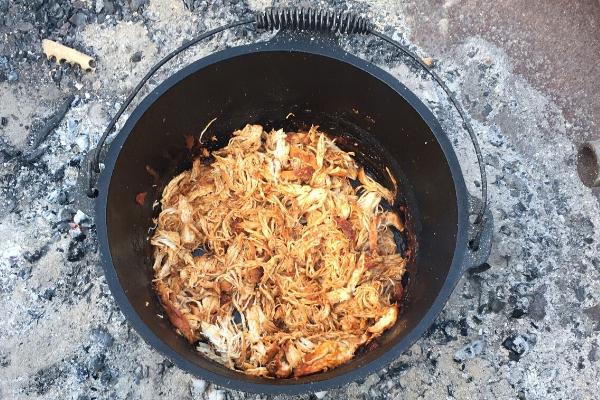 After two hours, remove all of the barbeque sauce and set it aside. Shred the chicken with two forks and stir it over the fire for about 3 minutes.

Add the barbeque sauce back in as you like it, or keep it on the side to be added individually.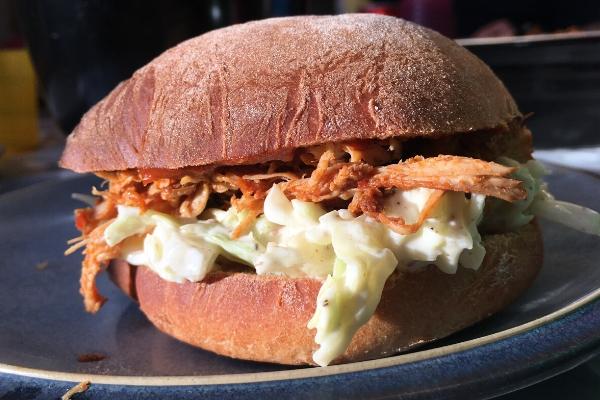 Serve it up on a burger bun or a roll with some coleslaw. Enjoy. 
Dutch Oven Pulled Chicken
Dutch oven pulled chicken is a lighter alternative to our popular dutch oven pulled pork. Its a very hands off recipe that will leave you with perfect pulled chicken every time.
Equipment
Campfire dutch oven

Campfire

Heat recilliant gloves
Ingredients
2

Onions

5

cloves

garlic

2

cm

ginger

(About an inch)

1

tbsp

Paprika

1

tbsp

salt

1

tsp

peper

4

chicken breasts

3

oz

bbq sause

3

tbsp

vineger

1

cup

canned tomatoes

1

cup

chicken stock

Water

as needed