Are you looking for the best crusty bread recipe in the world? Look no further, you've found it right here. This is one of those no-knead, Dutch oven bread variations that will blow you away. Okay, I know that a recipe for the best bread in the world is a tall order. This crusty, light and airy bread comes very, very close though.
Not only does this bread taste amazing, so much better than the store-bought version, it's also really straightforward to make. What more could you ask for?
The only things you need for making this bread is a bowl, something to stir the dough (you only need to do that for 5 minutes) and a dutch oven. We have several and have baked this bread in both this ceramic one, and in a cast iron dutch oven like this one. Use the one you have, and I am sure you will do just fine.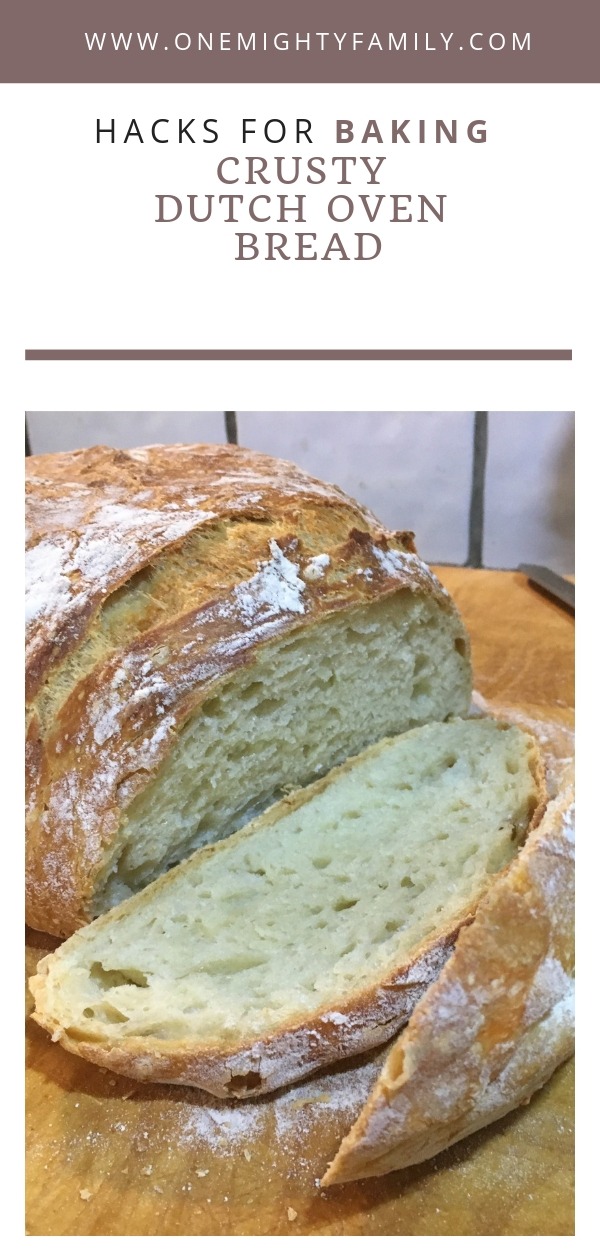 For us, this is a "weekend bread" – that is, it's the kind of bread that takes time from start to finish. The bread recipes we tend to use every day, like our simple bread rolls, are quick and easy, making those recipes… everyday bread. You get the picture.
You need to start baking this bread at least 16 hours before you want to eat it. This is to give the gluten in the bread the chance to form long strings. Those strings then knit the bread together, creating those big air bubbles I just love!
The method itself is very simple – make your dough, leave to prove and bake in a Dutch oven (or whatever pot you have.) It's not a work-heavy bread, just time-heavy. But trust me, it's definitely worth it.
Crusty Bread Gone Wrong…
I have to be honest. It took me a few attempts before this bread turned out the way I wanted it. So I'm going to share my best tip for perfect crusty bread.
If your bread sticks to your Dutch oven, pot, or whatever you're using to bake it in, then the pot wasn't warm enough when you put the bread in. To avoid this, leave your Dutch oven in your heated oven for a bit longer before you take it out and put in your bread. Because this recipe doesn't use any fat, you're relying on the high temperature to make sure the bread doesn't stick.
Are you on the lookout for a new Dutch oven? We have this one for the campfire, and this one for our conventional oven.
The best and easiest bread in the world
Nothing less than the best bread in the world. This is a no-knead bread that takes very little work, you just need to allow plenty of time for proving. This amazing crusty bread is crispy on the outside, and soft and light on the inside.
Ingredients
1/4

tsp

dry yeast

REALLY! Only very little!

1

pint

cold water

(5 dl)

2

pints

flour

(625g, 10 dl)

2

tsp

salt
You will also need a large bowl and a Dutch oven or oven-safe pot to bake the bread in
Instructions
In a large bowl, add the dry yeast to the cold water. Stir well, until the yeast is activated. (This takes about 5 minutes – until the yeast is fully-dissolved)

Add the salt and flour to the bowl.

Stir the mixture until the flour is just wet, but no longer. 

Wrap the bowl with a (wrung-out) wet tea towel or similar. 

Leave your dough to "raise cold" for 12-14 hours.

Choose the coolest room in the house for this. I did leave it on the kitchen table once, and it was fine here in chilly Denmark.

After 12-14 hours, dust a clean table top with flour. Tip your dough out onto the flour and fold the dough gently in over itself 3 times. Work from the sides to the middle, to create a dome-shaped loaf.

Now cover it (I use a beeswax cloth for this, but a dish towel is perfect) and leave on the kitchen counter for another two hours. This is especially important if you had it raising cold – it needs to "wake up".

Heat your oven to 250 degrees Celsius (480 degrees Fahrenheit) and put your Dutch oven or pot in the oven to warm. Make sure it's heated all the way. I like to let it sit in the oven for 10 minutes after the oven has come to temperature.

Take the hot Dutch oven out of the oven and put it down on a safe, heat-proof surface. Remove the lid (wear oven mitts!), and gently lift your dough into the Dutch oven – careful not to touch the hot pot yourself. Put the lid back on, place it back in the oven and leave to bake for 30 minutes.

After 30 minutes, remove the lid from your Dutch oven, and turn the oven temperature down to 225 degrees Celsius (435 Fahrenheit).

Bake without the lid for an additional 15 minutes. Make sure you check on your bread after 10 minutes though, your oven might be warmer than mine. 

Remove the bread from the oven and take it out of your Dutch oven. Your bread should be golden brown and making a crackling sound. To double check it's baked, knock on the bottom of the loaf, it should sound hollow.

LEAVE YOUR BREAD FOR 20 MINUTES BEFORE YOU CUT INTO IT!