When you first start looking for a family tent, like many other things, it can be overwhelming with all of the options. In the following we will go through the thoughts we have had when we switched from a multi-cabin tent to a single cabin tent.
When we realized that our old family tent was leaking (Not what you want in rainy Denmark!) We started looking around for the perfect tent for family trips and and for camping.
We are experienced tent campers, and we knew some of the elements that we would like and what we would not like. When you start to look around for a new family tent, there are a few things, that are good to keep in mind. You need to figure out, what you want from the tent and what you are willing to compromise, to get a good tent that fits your family.
We use our family tent for road trips, and for family camping. Our family tent is one of the things we always bring camping, you can find all of the things we always bring here, and a few unexpected suggestions for what to bring camping here.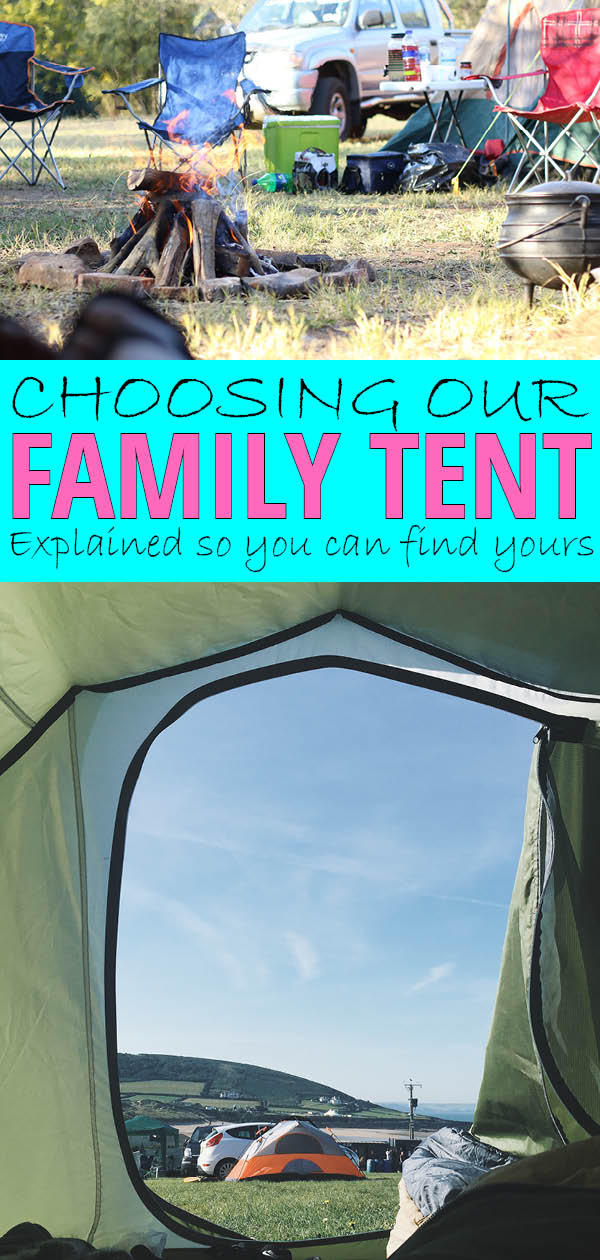 How to find your perfect family camping tent.
To find the perfect family camping tent you need to figure out what constitute a perfect tent to your family. With that there are a few questions you can ask yourself.
How big should your family tent be?
When looking for a family tent you need to judge the size of it. Generally the tent sizes are a bit on the small side for what you actually need in terms of room for a family, and all of your equipment.
How much room do you need for comfortable camping?
This is a very individual question for any tent camper. It is also a question of how you want to live in your tent during a camping trip. If you are only planning on erecting the tent for sleeping and nothing else, a small tent that is low, and therefore lighter, might be for you.
If you want to be able to spend time inside the tent, say during rainy hours, or if you like standing up inside a tent, you want to consider buying a taller tent.
Finding your own version of a perfect family tent
Every family will have different expectations for a good family tent. To find a tent that suits your family you need to look at what you want that tent to include, and what is less important to you.
You can check out our post on ALL the different family tents here.
We have looked at what expectations we had for the tent. and we listed the following:
Room for all of us 6.
Adults height inside, we are tall people, so that you get your clothes on without lying down.
Proper quality, so we were sure that we remained dry even on rainy days.
A proper entrance
We also listed some nice to have things:
Lightweight
good ventilation
floor
We looked at SO many large tents, and quickly we we're able to cut some from the process:
Cotton tent. This was actually quite hard because we love the feel of camping in cotton tents but we cut them due to weights.
Most of the dome and tunnel tents because they are too small.
Many very cool camping tents due to weight as well.
We ended up with two different tents that we would choose between.
Helsport Varanger Camp and Bergans wiglo.
The Helsport tent is a Lavvu (very much like a tipi, with only one pole in the middle) with an entrance. The Bergan's tent is something between a dome tent (low tent with bars in arches) and a lavvu.
Both tent could meet most of our requirements on both lists. Two super cool tents that were very similar and at the same time very different. Now we asked ourselves witch of our requirements was most important, and with that in mind we bought the Helsport Varanger Camp. Its such a great tent and as soon as we can we will make you a full review on it.
What things have you been thinking about when choosing a tent for your family??
Until next time
Malene.
Read all of our posts about the outdoors