One Mighty Family may earn a commission for purchases made after clicking links on this page.
Learn More.
When you first start looking for a family tent, the amount of choice you have means it can get overwhelming pretty quickly. In this post, I'll share our experience of switching from a multi-cabin tent (divided into separate "rooms") to a single cabin tent (everyone in a single "room"). Hopefully it'll make the process of choosing the right tent for your family a little easier.
When we realized that our old family tent was leaking (not what you want in rainy Denmark), we started looking around for the perfect tent for family trips and camping expeditions.
We are experienced tent campers, and so had a good idea what we wanted (and didn't) want in a tent. When you start to look around for a new family tent, there are a few considerations that are good to keep in mind. You need to figure out what you want from the tent as well as what you are willing to compromise on, to get a good tent that fits your family within budget.
We use our family tent for road trips, and for family camping. Our family tent is one the things we always bring camping. You can read more about our camping trip essentials here, and a few unexpected suggestions for what to bring camping here.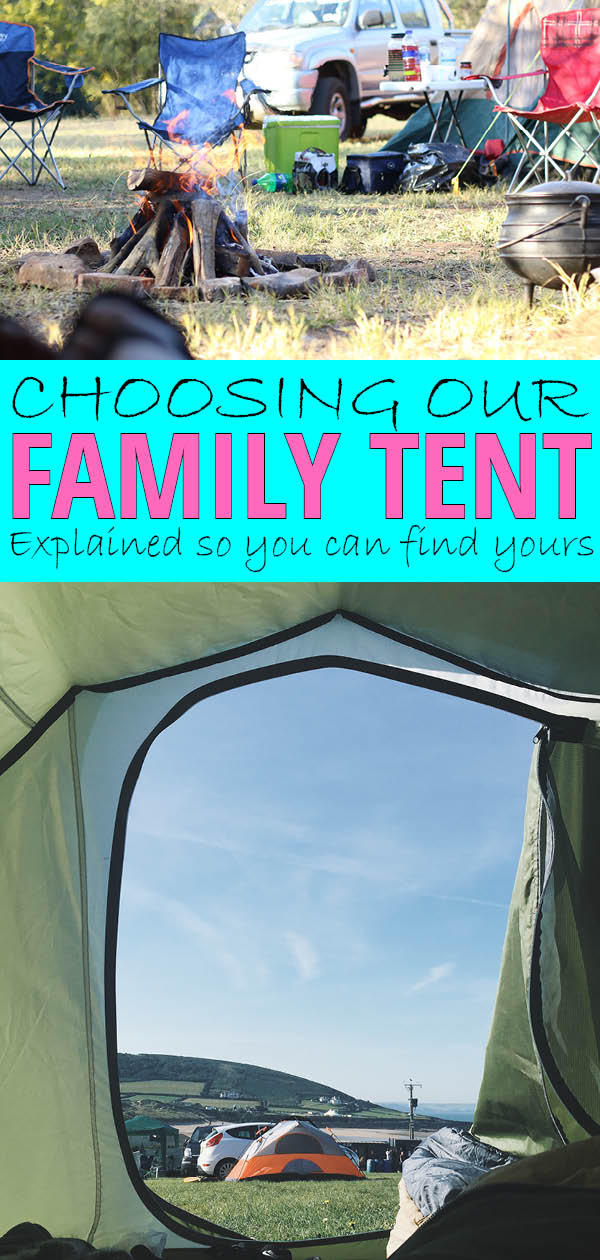 How to find your perfect family camping tent.
To find the perfect family camping tent you need to figure out what constitutes a perfect tent for your family. To help you with that, there are a few questions you can ask yourself:
How big should your family tent be?
When looking for a family tent you need to judge the size of it to make sure it can accommodate your family comfortably. Generally the stated tent sizes end up being a bit on the small side when it comes to having room for a family, and all of your equipment, so make sure to keep this in mind.
How much room do you need for comfortable camping?
This is a very individual question for any tent camper. It is also a question of how much time you want to spend in your tent during a camping trip. If you are only planning on erecting the tent for sleeping and nothing else, a small tent that is low, and therefore lighter and easier to carry might work better for you.
If you want to be able to spend more time inside the tent, in case of bad weather or just to chill out for a bit, or if you like to be able to stand up inside your tent, you want to consider buying a taller tent with a more spacious feel.
Finding your own version of a perfect family tent
Every family will have different expectations for a good family tent. To find a tent that suits your family, you need to look at what you want that tent to include, and what is less important to you.
You can check out our post on ALL the different family tents here.
When we were choosing a family tent, these were our "must-haves":
Room for all 6 of us
Adults height inside (we are tall people) so we could get dressed in the tent without having to lie down!
Good quality construction, so we'd be sure to stay dry even on rainy days
A proper entrance
We also listed some "nice to have" things:
Lightweight
Good ventilation
Floor
We looked at SO many large tents, and quickly we able able to rule out some from the process:
Cotton tent. This was actually quite hard because we love the feel of camping in cotton tents, but we decided not to choose one because of the extra weight.
Most of the dome and tunnel tents – because they were too small for our needs.
Some other very cool camping tents which would have been just too heavy.
We ended up with two tents to choose between:
Helsport Varanger Camp and Bergans wiglo.
The Helsport tent is a lavvu tent (very much like a tipi, with only one pole in the middle) with an entrance. The Bergan's tent is something between a dome tent (low tent with bars in arches) and a lavvu.
Both tents could have met most of the requirements on our list. Two super cool tents that were very similar, and at the same time very different. Then we needed to ask ourselves which of our requirements was most important, and with that in mind we bought the Helsport Varanger Camp. It's such a great tent and as soon as we can we will post a full review on it for you.
What things have you been thinking about when choosing a tent for your family??
Until next time
Malene.
Read all of our posts about the outdoors