Are you looking to find that perfect large family tent for this years camping season? Having a large family tent should be a must for every outdoor family. Our favorite kind of holiday is one where we just load up our minivan , with supplies and a big family tent and hit the open road. No worries, just see where the road will take us, and we will be ready to make camp where ever we go.
If you are in a hurry this large family tent, is the best rated on Amazon and the most popular choice amongst the One Mighty Family readers.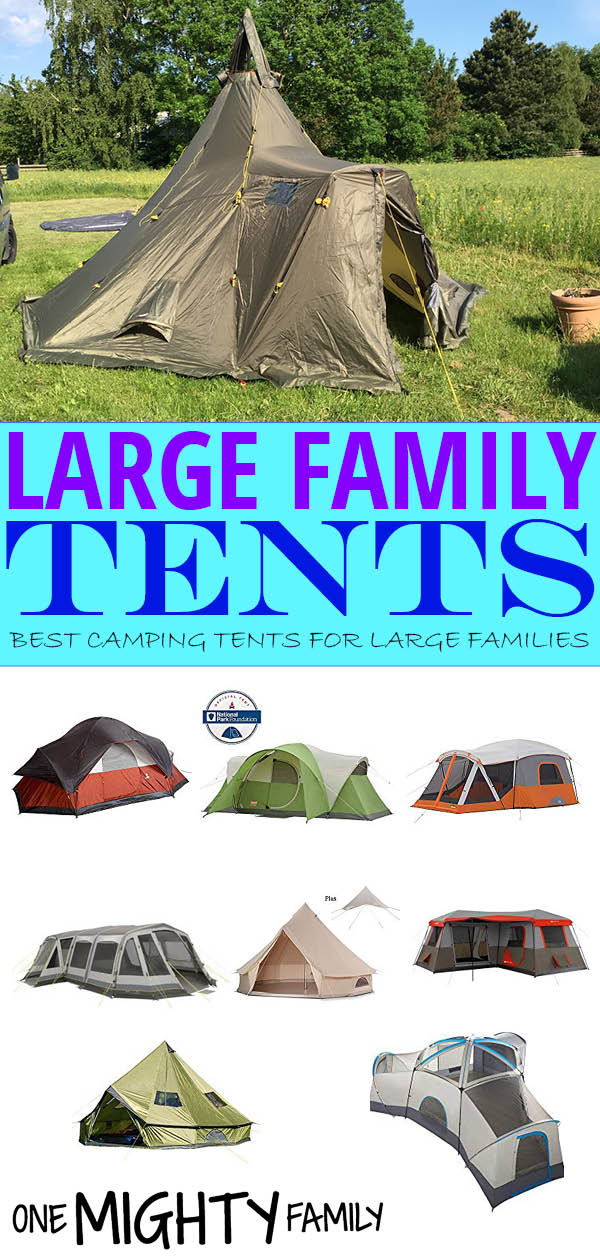 One of the things that makes camping even better is the fact that we have a great tent. We are sure that where ever we choose to stay, we will be dry and comfortable inside our family tent. Now a family tent can be many things. Large and heavy, or small lightweight. It can be cotton or polyester, one room or with small cabins. Finally you want to think about the durability of your tent, and how much money you want to spend on it.
All of that is a matter of preference, you can read all about our large family tent and our thoughts on buying our own family tent here. Now a tent is one of the biggest investments you will make to have a great time in the great outdoors, so you want to do your research and find the perfect one for your family.
The best large family tent
There are a few things that you want to be true for a tent, no mater what other factors you find important. You want it to be waterproof, at least on the outer layer of your tent. If you buy a tent with a permanent floor, you want that floor to be waterproof as well.
As a family you want to really think about how much space you need, especially as a mighty family. Some of the numbers of people the tents claim to sleep are quite misleading. Think about how tall and wide you are and what space YOU need to be comfortable. We have a 8-10 people tent for our family of 6 and we would not work in a smaller one.
We have looked at all of that and have found some great suggestions for a large family tent of 2021, and beyond.
You might also like: Tips for camping with toddlers
Best tent for family camping
A question we get asked a lot is what is the best tent for family camping. And while that is a preference to what you are looking to do with your tent we have to say that the Helsport Varanger Camp is our choise of tent for our family – as our needs are atm. We love being on the go, and this tent can be put up by just one adult while the other prepares dinner or plays with the kids. If we were to go on holidays where we would stay in one location for longer we would choose a bigger, multicabin tent, and we really liked our Coleman tent when we used that.
The best Single cabin Family tents
Being in a single cabin works really well for us as a family. We love to be close together while camping. Here are some great suggestions for single cabin tents.
This being the tent we have, this is our favorite large family tent. Varanger lavvu had been a best-seller for years when in 2010 we introduced the Varanger Camp to the range, the world's first lavvu with a camp-entrance solution! With the same durable, solid details as its award-winning namesake Varanger, it is equipped for four-season adventures; named the best lavvu for winter-use by Norway's largest outdoor magazine.
There is something special about camping in a cotton tent. The feel is completely different to the poliester, and the way you breathe inside a cotton tent is just devine. We didnt buy a cotton tent like this one from DANCHEL, because it would just be to heavy for our needs, but if we were to invest in a tent that would be up in the garden most of the summer, I would choose a cotton tent. This tent even has a build in tarp at the bottom that keeps all the cold and wet outside the tent. That does zip out though, so that you would still be able to ventilate the entire tent. That would have to be the best of both worlds.
I would consider this tent the complete glamping solution, and if thats what you are going for, this would be the perfect tent for you.
A host of modern features make these shelters much more than bare-bones slumber shacks! Constructed of heavy-duty, lightweight, waterproofed polyester to brilliantly weather wind and precipitation.
Timeless peak-style construction affords loads and loads of interior room. Covered mesh windows allow air to circulate, keeping your camp fresh.
Waterproof 190-denier polyester shell is lightweight and rugged; Weatherproofed windows; Sewn-in polyethylene floor; Center steel pole support adds durability; Factory-sealed seams for superior hold and seal.
Enjoy the benefits of sleeping under canvas, in a yurt/tipi-like vibe without the hassle. Ideal for beach camping, festivals, garden hide out for children, re-enactments, ..
Bring the Hasika Teepee Tent on your next outdoor adventure, and you'll sleep soundly knowing you saved BIG money!
Multi-cabin tents
Coleman 8-Person Tent for Camping | Red Canyon Car Camping Tent
Family camping tent can accommodate eight campers; measures 17 by 10 feet with a 72-inch center height
Included room dividers allow you to create three separate rooms
Coleman's exclusive Weathertec System is guaranteed to keep you dry from unexpected wet weather on your camping trip
Tent setup is easy with its shock-corded poles and easy-to-follow assembly instructions
Cool-Air port and Variflo adjustable venting system allows you to adjust airflow and access gear
CORE 11 Person Cabin Tent with Screen Room – 17′ x 12′
Sleeps 11 people; Fits three queen air mattresses; Center Height: 86″

Features front screen room with closable window panels and full tent floor coverage

CORE H20 Block Technology and adjustable ground vents

Gear loft with lantern hook and pockets keep items organized and off the tent floor; Electrical cord access port (port is fully closable when not in use)

Includes tent, tent poles, rain fly, gear loft, tent stakes, expandable carry bag; 1 Year Limited Warranty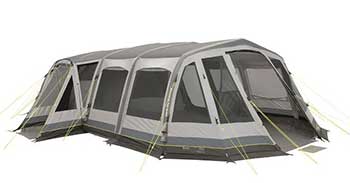 Advanced Air Tube System of interconnected air tubes with One-Go Inflation Technology for fast, uncomplicated pitching through just one valve
Royal Master Bedrooms offer more internal headroom and floor space with wide views through the all-round windows, embossed fronts and Cable Entry points for mains electricity supply
Large tinted windows block sun glare, ensure privacy and allow campers to stay in touch with the outdoors
Spacious 8-person tent has enough room for 3 queen size air beds

WeatherTec system with patented corner welds and inverted seams helps keep water out

Extended door awning keeps shoes and gear dry; hinged door offers easy access

Measures 16 x 7 feet with 6-foot 2-inch center height. E-Port makes it easy to bring electrical power inside your tent

Quick setup in 15 minutes with carry bag included for easy transportation
16′ x 16′ instant cabin tent/ Sleeps 12

Fits 3 queen airbeds/ 3-room tent

Includes rainfly

7 fully closeable windows

Fully taped factory sealed seams provide dry-zone camping with leak protection

14.17 x 52.36 x 12.6 in
Sleeps 16 Fits 4 queen airbeds or up to 16 sleeping bags 6 windows and mesh roof provide excellent ventilation
Taped fly seams and inside binding floor for water resistance Multiple storage options include media pocket, gear hammock, 3 bottle holder pockets and 3 large pockets
3 doors for easy entry/exit to each of the 3 rooms Contains E-port for easy access for electrical cord Average set up time with 2 adults: 20 minutes
Floor dimensions: 23.5′ x 18.5′ Center height: 83″ Carry weight: 46.7 lbs Carry bag dimensions: 28.5″ x 14″ x 14″ Square footage: 240 sq ft
Do you have a favorite family tent?? We are always looking for other gear to check out. Let us know in the comments!
Until next time – Malene.
Read all of our posts about the outdoors