When winter camping with kids there are many things I always worry about. Are they warm enough, will there be enough for them to do – you know – worried mom things. But at the same time I love being outside together as a family, and as the weather turns cooler there are still experiences I want my kids to have, and I wish for you to have as well.
There are a few things that have been good to keep in mind every time we go winter camping with our kids. Here are our best tips.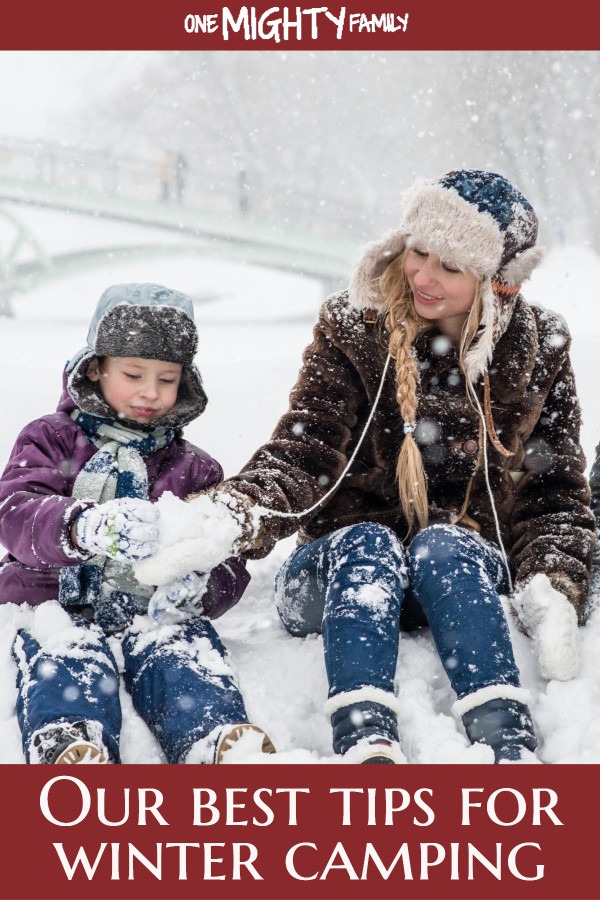 You might also like: Tips for camping with toddlers
Tips for winter camping
Position your winter camp in the right spot.
Its important where you place your tent/camper on a site. Have a walk around the site before you chose where to set up. Wind can make a huge difference in how warm you feel when you go winter camping. If there is a shaded spot behind some trees or bushes, choose that over a great view over an open lake where the wind can run free.
Have enough warm clothes
One of the things we always prioritize is proper winter clothes that can withstand water and cold for longer periods of time. That is the outer layers though, and when we go camping we always bring enough dry clothes so that we can change if it gets wet. One of the things you can consider is chosing wool clothes. Wool keeps warm even when its wet, and therefore we love it for winter camping.
Always sleep warm.
This goes for any camping trip, but in winter its especially important. Consider bringing some of the clothes you would use for base layers, the layer closest to your body when you dress in layers. You can read all about layers here. I always bring warm socks for sleeping and a hat can be a good thing as well.
You will need a great sleeping bag as well. There are quite a few things to think about when you invest in a sleeping bag. You can read all of our considerations here.
You will need a great sleeping pad as well. If you are not protected from the cold of the ground it is imposible to keep warm during winter. You need to think about the size, weight, and type of sleeping pad you want to bring. You can read all of our considerations for buying a sleeping pad here.
Exercise.
Getting into bed warm is just as important as staying warm once you get there. Consider doing some light exercises before bed. I love yoga and I think this little practice from Yoga with Adrienne is perfect. Keep it light, you are going for a little heat but not to get wet from sweat.
Have a snack
Snack on something high fat/protin before you tuck in. When the body has something to burn of it works for you during the night at will help keep you warm.
Buy small heaters
These "hot hands super warmers" are genius and it almost feels like cheating. We bring these to place inside gloves or anywhere that is cold. Its a great way to heat up almost instantly.
Consider a tent stove.
If you are luck enough to have a camping tent that can use a camp oven, you could consider investing in one. We like this fronter stove from Aneway, but there are many others out there.

Have you been winter camping? If not, what is holding you back? If you have, what would be your best tip? We are always eager to learn more.
Until next time
Malene.