One Mighty Family may earn a commission for purchases made after clicking links on this page.
Learn More.
Are you looking for brilliant camping gear for your baby or toddler? Something to make the experience of camping with a toddler a little easier? If you'd like tips on camping with a toddler, we have a full post on that – read on for our collection of some of the best camping gear for babies and toddlers.
Camping with little ones is magical. It's a fantastic way to spend time together as a family without the distractions of everyday life. But let's face it, camping with a baby is hard. Camping with a toddler is probably even harder because now they're on the move!

When you're camping with kids, you won't have all your usual home comforts, so the key to a fun, successful camping trip is planning ahead. Keeping your little ones to some sort of routine will make family camping much less stressful. Diapers, changes of clothes, bottles, blankets – start thinking about the essentials you'll need when you're out and about.
Luckily there is so much awesome toddler camping gear available to help you explore the great outdoors in style and comfort, and we're going to share a selection of that with you here. Some of the gear we're lucky enough to have already, and the rest is definitely on our wish list for camping season.
Just to be clear, this list only covers the camping equipment you might need for your baby or toddler. For help with finding the perfect family tent and our guide to 10 essentials we always bring camping, you can check out our other posts.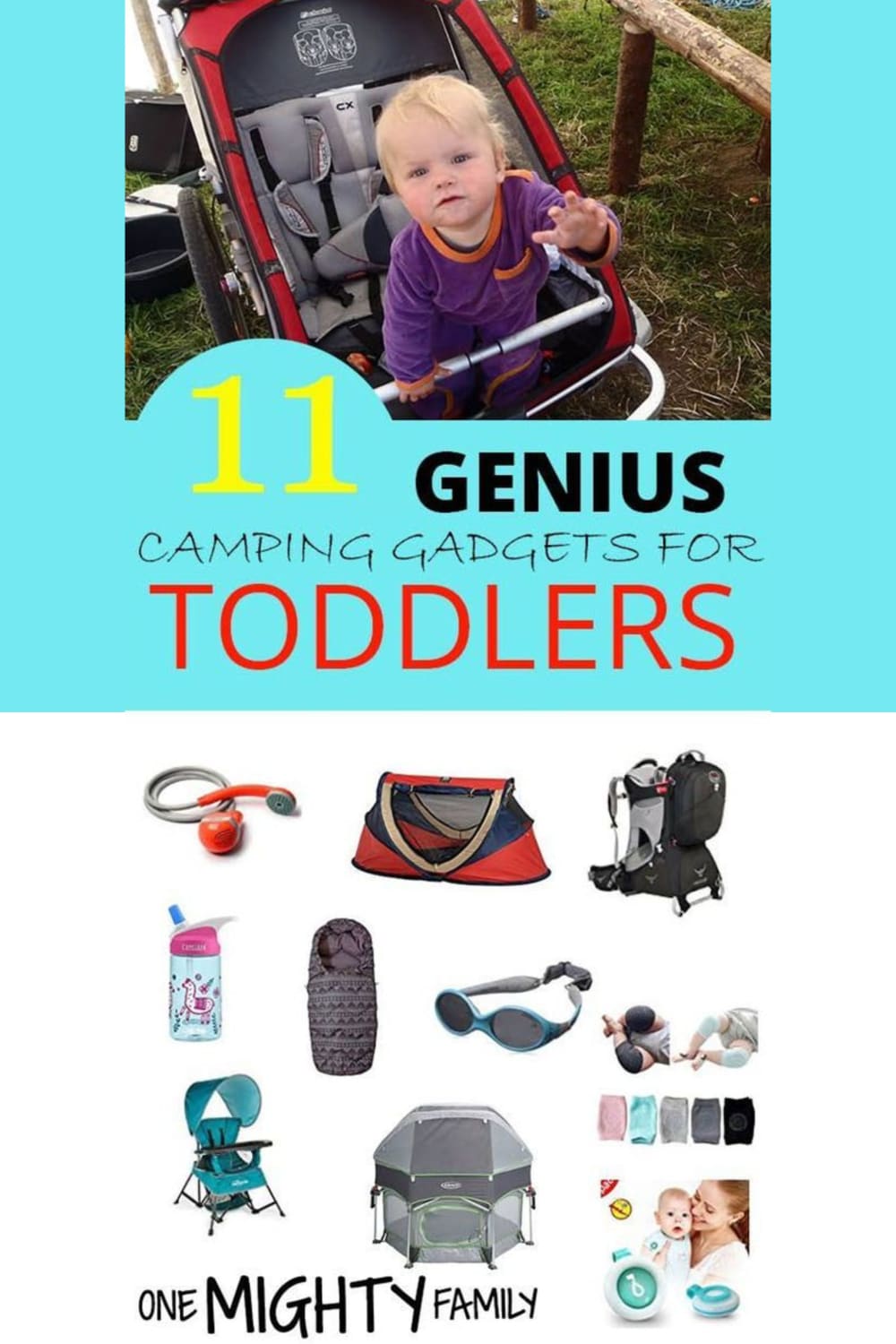 Baby and toddler camping gear
Best tents for camping with toddlers
While a good tent is essential for any camping trip, you really want to look for the right tent when you are away with a toddler. Do you need a cabin for your toddler to roam around in, or do you want to sleep in one big cabin and get a smaller sleep tent for your todder?
Overall you also want to think about how warm your tent is, and how well ventilated it is, depending on the season you are going. You can read all of our tips on choosing a family camping tent.
Cranky, overtired kids do NOT make for a fun camping experience, so a great travel cot is essential to ensure that your baby or toddler sleeps when you go camping. Our 2-year old never stays in the same spot during the night, which makes it hard to camp with just a small mat to sleep on. We have this Deryan travel cot, which has been the perfect tent camping bed for our toddler. It's a pop-up travel cot that zips up on all sides. You can have all the sides closed for full cover or just use the mosquito netting. We rarely keep the sides fully down, as our toddler is a very warm sleeper, but of course, that depends on your own little ones. The sleeping mat zips in from underneath the tent on the outside, which means little hands can't fiddle with it during the night. I've had tents where the toddler could access the fastenings for the mat, which they'd end up playing with or misplacing – this setup means you don't have to worry about that.

Check out our full post on finding a toddler camping bed here to see some of the other options. We have owned a Deryan travel bed for 10 years, and it has lasted for all of our kids. It's always at the top of my list.
Before you invest in a toddler sleeping bag, think about where you'll be doing most of your camping. Some of the Deryan travel cots come with a sleeping bag, but you may want something a little heavier. We have found them to be a bit cold for the Danish climate. They're perfect for sleeping indoors, but we have always needed a warmer version of the toddler sleeping bag to keep our little ones cosy when we're camping out.
We have been really happy with our Voksi. It's warm, made from soft material, and you can pack your little one into it nice and snugly, making them less likely to escape from under the covers during the night.

Another option is this "sleep nest" style sleeping bag that your baby can wear. You can read our full guide on what to look for in a toddler sleeping bag here.
Hiking is a fantastic way to see the world with your little one, and a good-quality child carrier will make all the difference for your trip. The best carriers are comfortable for the kids to sit in, nap in, and are easy for you to wear, with no uncomfortable straps digging in or backaches later on.
When your little one is on your back, right behind your head, you get to share in their excitement as they see what you see, making a hike so much more enjoyable. This child carrier from Osprey is one of the best, and we LOVE it. If you don't plan on doing too much hiking but still want to get out for some adventurous walks every now and again, this one from Deuter would probably do just fine.
Sure, you can just use a blanket to eat outside, but really, I much prefer when my toddler is lifted off the ground a little bit. Not to mention the added bonus of knowing where they are while you finish your dinner (Just being honest :-))
Ok, if this isn't genius, I don't know what is. I HATE mosquitoes, but I don't like spraying all sorts of chemical-filled bug spray on my babies either. These mosquito-repellent bands are a perfect solution for camping in those bug-rich areas. They're size-adjustable, made with natural ingredients, and are DEET-free too.
You can't be too careful when it comes to protecting little eyes from the sun. I find that small children end up squinting a lot in the bright light outdoors, even when they're in the shade, so sunglasses are a must. These would be perfect for both sun and wind protection, and the strap means they're more likely to stay on… for a while anyway. 🙂
Now we are firmly in the "very nice to have" category. But it can't be just my kids that seem to gravitate towards muck, clay, and any other kind of filth!
Having our very own portable shower would be fantastic for a quick rinse after a dunk in the mud or a dusty hike. This one uses solar energy to warm the water. If nothing else, it'd certainly help keep mom sane!
Toddlers need to stay hydrated – playing, running, and jumping all day is hard work! It's a lot easier to get your little ones to drink water if it's fun, and so this colourful, spill-resistant kids' water bottle from CamelBak is perfect.
They can drink from it from quite early on, once they understand how it works. It's a bite and suck system which comes quite naturally to most babies. Our kids have been drinking from bottles like this since around 9 months old. Before, when hiking for longer stretches, we just had the bigger hydration pack available – so this was an excellent solution.
Babies love to explore, and toddlers take it to a whole new level! But that tricky in-between time when they go from baby to toddler can be pretty hard on the knees. While I don't mind it too much when we are at home, it's not so easy when we are outside. With branches, rocks, bumpy tracks, and other unexpected obstacles everywhere, a little bit of extra padding is never a bad thing. These knee pads would help protect your little one's knees in the great outdoors. They're soft, stretchy, and (best of all) washable too.
Having an enclosed space for your little people to play while you are out camping is a must, to keep them safe, secure, and make sure that they're not snacking on anything unexpected! I discovered a snail in my toddler's mouth on one of our camping trips. I'm pretty sure the snail was more scared than my toddler was, but I still didn't want him to eat it!
You can solve this problem by bringing a travel cot like the Deryan outside, but you might prefer to use a separate playpen. For summer camping trips, I would LOVE this portable play yard. It's light, has a canopy to protect from the sun, and you can set it up in a few minutes – definitely seems like essential camping equipment for babies to me.
This child trailer has been a lifesaver for us on more than one occasion. Not only is it perfect for hiking with kids, but you can bike with it, run with it, and I believe it even has extensions for skiing. It's the ultimate all-purpose carrier.
We bought the double version when we had our first child. When our second came along, we got the baby extension for it, which made it really handy for the kids to be together inside the trailer.
We've had it for 11 years now and still use it on a weekly basis. It's a safe and comfortable way to transport the kids and great for hiking, biking, and even naps. Because it's a 2-child trailer, there's plenty of space, and it can carry quite a bit of weight, but you can buy a single version too. I love how they've added suspension to the seats so the kids have a smoother ride.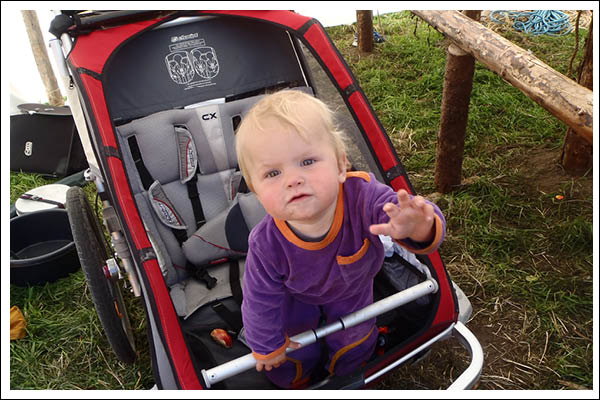 It's been worth the investment for us, but I completely understand that it may not be in everyone's budget. Here are some highly-rated alternatives on Amazon that look like they have some of the same features that I have been happy about with this Thule Carrier.
So that's our roundup of gear to make your life easier when you're camping with a baby and toddler. I know some of them might be luxuries rather than essentials, but hey, anything to make life easier, right?? 🙂

Did we leave anything out? If you've got a must-have piece of camping gear for little ones, let us know.
What's your favourite from the list? Tell us in the comments below.
Until next time
XO Malene.