One Mighty Family may earn a commission for purchases made after clicking links on this page.
Learn More.
Are you thinking of going camping in the winter and want to know all the best tips and hacks about how to not only go camping, but to actually have a good time while you go? This is the post for you.
When winter camping with kids there are many things I always worry about. Are they warm enough, will there be enough for them to do – you know – worried mom things. But at the same time I love being outside together as a family, and as the weather turns cooler there are still experiences I want my kids to have, and I wish for you to have as well.
There are a few things that have been good to keep in mind every time we go winter camping with our kids. If you havent already you might want to check out the beginners guide to family camping for some general tips on what you need to think of when you go camping.
You might also like: Tips for camping with toddlers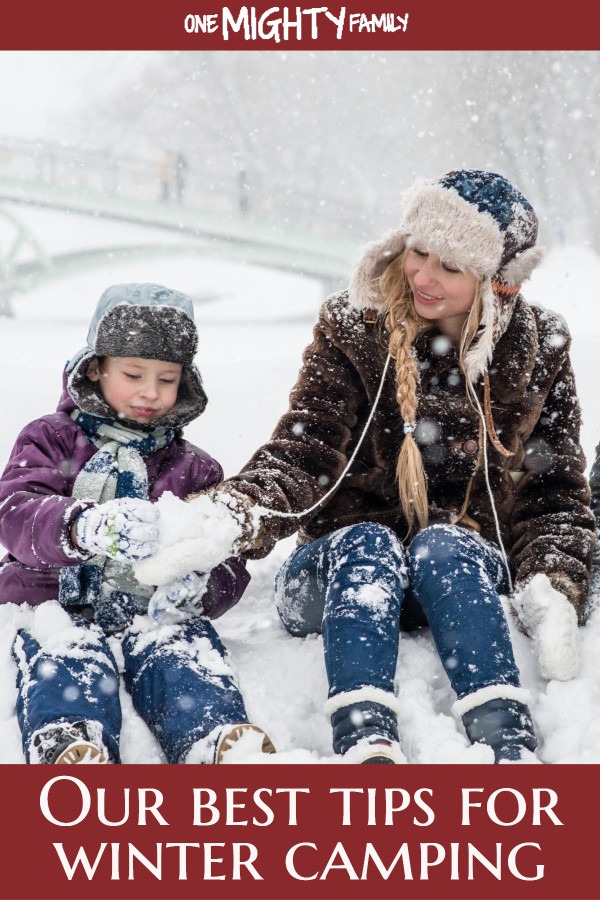 Tips for winter camping.
When we go camping I like to prepare a lot of things in advance. When you go winter camping this is even more important, as I don't want to spend all day cooking and doing practical things. I keep a general packing list with all the things we need for camping, handy at all times, and I change it up when ever we have been on a trip to make sure that its updated with our latest needs.
Position your winter camp in the right spot.
One of the things that is really important when you go winter camping is where you place your tent/camper on a site. Have a walk around the site before you chose where to set up. Wind can make a huge difference in how warm you feel when you go winter camping. If there is a shaded spot behind some trees or bushes, choose that over a great view over an open lake where the wind can run free.
You can also think about things like, where the morning sun will be- on a cold winter day, it is fantastic with the few degrees the sun will give you in the morning.
Have enough warm clothes
With winter camping its all about the layers. If you have never thought about how to dress in layers you can see our full guide here. When we buy clothes for our kids, one of the things we always prioritize is proper winter clothes. Winter clothes that can withstand water and cold for longer periods of time.
Winter clothes is the outer layers though. You also want to think about the thickness of your layers and how they work together. One of the things you can consider is choosing wool clothes. Wool keeps warm even when its wet, and therefore we love it for winter camping.
When we go camping we always bring enough dry clothes for everyone. Its essential in clod weather that everyone can change into a dry set of clothes. Depending on how cold it is, if one of us gets wet all the way through, then the trip is over. We are out to have a good time, and if someone is wet and not able to get dry, its just not worth it.
Always sleep warm.
To know how you sleep warm you will have to get to know yourself. I always bring warm socks for sleeping. I find that keeping my feet warm makes all the difference in my overall temperature. Some people I know loves sleeping with a something warm on their head. A lot of your body heat leaves you through the crown of your head, and if you feel cold, a hat can be a good thing as well.
You will need a great sleeping bag as well. We have chosen down sleeping bags for ourselves, and some really great synthetic sleeping bags for the kids. We find that with these sleeping bags we can all keep warm. I also keep extra woolen blankets on hand to throw over the kids in their sleeping bags if its a very cold night. There are quite a few things to think about when you invest in a sleeping bag. You can read all of our considerations here.
You will need a great sleeping pad as well. If you are not protected from the cold of the ground it is impossible to keep warm during winter. You need to think about the size, weight, and type of sleeping pad you want to bring. We also bring some thermal blankets that ensures extra insulation from the ground, and we place these under all sleeping pads. You can read all of our considerations for buying a sleeping pad here.
Exercise.
Getting into bed warm is just as important as staying warm once you get there. Consider doing some light exercises before bed. I love yoga and I think this little practice from Yoga with Adrienne is perfect. Keep it light, you are going for a little heat but not to get wet from sweat.
You choose if yoga is for you, or the work of getting 4 kids into bed, and to sleep in a cold environment is enough (just me, sometimes – okay then :-))
Have a snack
While it might not be the most obvious suggestion – you could have a snack before bed. Snack on something high fat/protin. When the body has something to burn of it works for you during the night at will help keep you warm.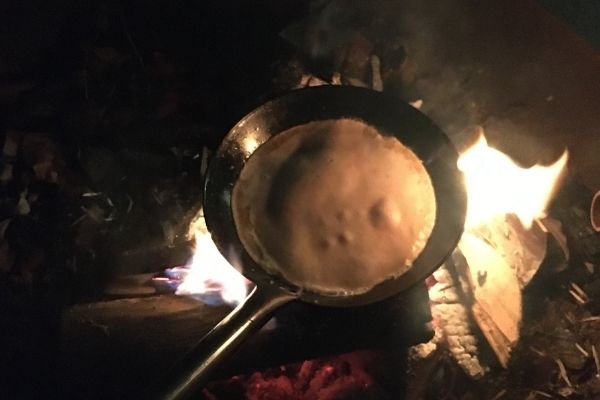 I dont like warm drinks before bedtime, because you just have to run all night with kids taking turn to go to the toilet- but a snack suck as campfire pancakes or bread on sticks are so much fun to make, and a great way to get something warm into the little bellies before the turn in.
Buy small heaters
These "hot hands super warmers" are genius and it almost feels like cheating. We bring these to place inside gloves or anywhere that is cold. Its a great way to heat up almost instantly.
We bring them most of the time, but especially in winter, its a fantastic way to have each kids have something they can keep warm by.
Consider a tent stove.
If you are luck enough to have a camping tent that can use a camp oven, you could consider investing in one. We like this fronter stove from Aneway, but there are many others out there. There is nothing like those extra degrees of heat that comes from an oven inside the tent when the ground is frosty outside. We fell in love this this kind of camping during our 8 months in Mongolia.
You want to be sure that you check out all the safety notices before you buy a tent stove. Some of them, burn tiny holes in your tent because you get tiny embers flying out the chimney. A lot of research is needed before you invest to make sure this is the right choice for your family.
Have you been winter camping? If not, what is holding you back? If you have, what would be your best tip? We are always eager to learn more.
Until next time
Malene.
If you liked this, please share it: