Bringing a baby into the family is a gift and a great joy. While we all know its a joy, it can be a source of frustration for siblings as well, especially toddlers. Having four kids in our home we have some experience in bringing a new baby into our family.
We believe that there are somethings you can do to make it easier for your older children to welcome a new baby into the family, but we also accept that some of this is luck. And we are incredibly lucky that our oldest is a fantastic big brother, and he has loved his siblings from the second they have entered this world. This has made our jobs so much easier. You might also want to keep some of these general tips in mind for when you have a new baby, especially nr 1 will help you out!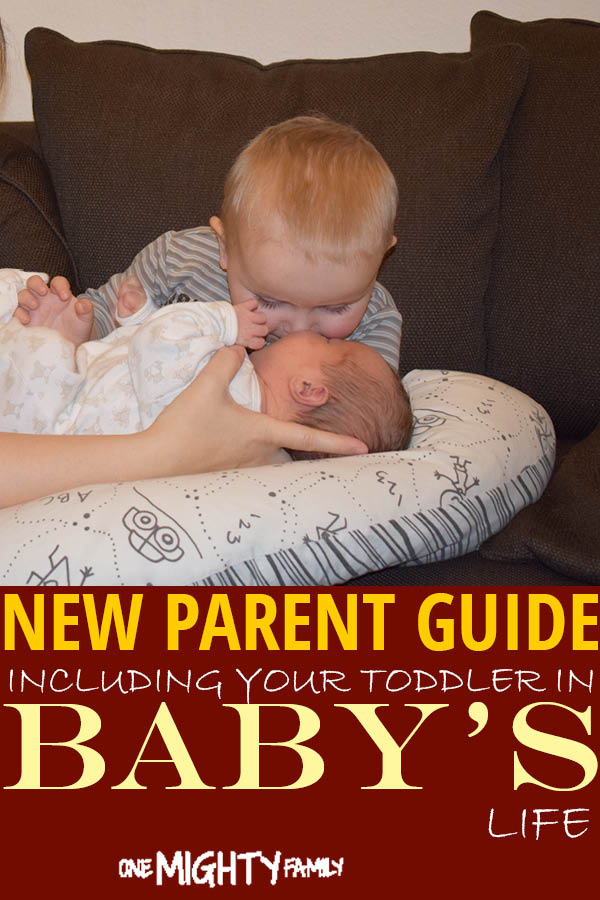 Here are some of the things we did that has helped our toddler welcome a new baby in our family.
A gift from baby
Often a new baby receives plenty of presents. We make sure that there is a gift from baby to the older siblings. Sort of a, thank you for being my bigbrother/bigsister kind of thing. This should not be a big thing, but just something to play with, now that mum and dad are a bit busy.
Try not to be holding the baby when the older kids comes to visit.
If you are still in the hospital the first time you introduce your kids to the baby, try to not have the new baby in your arms. I know its not always posible, but if you can, place the baby in a crib, so that your arms are free to hug your older kids.
Let your toddler hold the baby.
While some kids might not be interested, many older siblings would love to hold the new baby. Trust that they can! We solve this by using a nursing pillow. Place the other child on a sofa or somewhere comfortable, with they backs right up against the back, and place pillows on either side. Place the nursing pillow on top and then place the baby on top of that. Be sure to be close by as this can be hard on young children, and especially toddlers have a short attention span and might leave all of a sudden.
Encourage helpfulness.
Note: Encourage it, never expect it. There is a difference. Ask for help to find things and take part in caring for the baby. But always remember that this is not their task. If they dont want to help out today, that is fine, maybe they want to be included tomorrow. I've asked for help to find pacifiers, burb clothes, nursing pillow – you name it. It is always a gentle moment when they realize that they have helped and really made a difference in the babys life – and its awesome to see them grow with that realization.
Read or play while breastfeeding.
Breastfeeding is tough work, and a time that you spend away from older siblings. But once you have established it, and you are comfortable, it doesn't have to be. While I try to keep it a calm time where the baby can concentrate, I also like to include siblings and spend time with them. I do this by doing a puzzle, or play small games while breastfeeding.
What have you done to include a toddler, or older siblings, when you have had a new baby??
Until next time
XO Malene.
Welcome to our mighty family
Join our newsletter and we will send you all the best of what we have!