One Mighty Family may earn a commission for purchases made after clicking links on this page.
Learn More.
You have a new baby! Congratulations! This means that your family has a whole new shape. Whether it's your first child or your fourth, every child brings a change into your world and your family. The arrival of a new baby brings excitement, joy, sleepless nights, fear, love and everything between, into your world. It's going to be a wild ride, but the best ride of your life.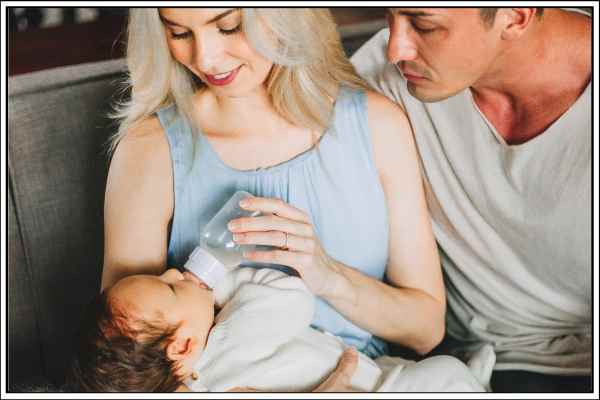 You now need to figure out what your family is like with one more member. This member is as important as all the rest of you. Every baby is life-changing. It's easy to get overwhelmed, but here are a few things that are good to remember when your family is growing.
Consider creating a registry at Amazon for your baby, to ensure that you get the things you need for your new baby.
Keep yourself calm to keep your baby calm.
Calm down! Take a deep breath, you've got this. Whatever needs to be done, it can wait, just take care of your baby. Even though it might be overwhelming and you don't know what your baby is trying to tell you. When you're calm, it'll be easier for you to listen and observe, to see what your baby needs.
Now I know it's easier said than done but here are some of the things you might consider, when you are trying to calm your baby:
Have other people cook for you. When people ask if there is anything they can do, say yes to them bringing you and easy meal for the freezer. That way, you can focus on the calm, even if panic strikes close to dinner time
Think of a song that keeps you calm. If you become more and more desperate when you are trying to calm your baby, I guarantee that your baby will feel it. I would sing a calm song to myself (I went with Jack Johnson, better together (https://youtu.be/seZMOTGCDag) That's a brilliant tune to have in your mind when calming a baby)
If you are reading this after your baby is born, then move light along the list, but if you are here before your baby arrives you can check out this post that I wrote about how to prep for a baby. There are a few of those things that might help you keep calm – Especially 7, 10, 22 and 25!
Trust that you know your newborn baby.
Trust that you know your baby. Even when your baby is a few hours old, you are the only person in the world that has known your baby for that long. This concept was actually quite mind blowing to me. All the experience of everyone around you, is with other babies. You know your baby and you need to trust that you know your baby. All you have to do is listen to yourself! You've got this!
Respect the needs of your newborn baby
When you trust that you know your baby, you also need to respect your newborn baby. If your baby is in need of a day at home, and the whole family has planned a day at the park, mom might need to stay at home with the baby, while dad goes to the park. If your baby's tired you need to provide at quiet place from them to rest. Respect your baby as a person, as a full member of your family.
I know its hard to listen, especially when there is alot going on. But this will always help you! Not that long ago we were invited to a family birthday, but I felt the need of our baby girl to just stay home. So we did, and she slept like she hadn't don't in many days. She really needed the quiet house and the calm. I am very happy that I was able to listen and provide that space for her.
Say no on behalf of your baby – to avoid overwhelming your newborn.
Knowing your baby also means that you know when to say no. And trust me you will need to say no. Say no on behalf of you, and on behalf of your baby. Its SO easy to go along and just think of the things you are "supposed" to do. If you can tell that now it's enough for you baby, you need to say no! No grandparent/aunt/uncle need to hold your baby, if your baby's tired.
Accept how things are, and adjust. You've dreamed, had talks with your friends, and planned everything about this baby. Now it's time to look at the baby that actually came to you, and not the one your dreamed of. Some babies sleep 22 hours a day in the beginning, others don't. Some babies cry ALL the time, and others don't. Adjust your plans to make room for your new baby.
Say YES, when it's right.
Many wonderful people in your life will offer to help. Remember to take them up on that! Can they bring food over? Can they do a quick walk through your house with a vacuum? Can they clean your bathroom/kitchen/whatever? Anything that can take the stress of you so that you can recover and concentrate on your new family.
Show your baby around the house
When ever we have brought a baby home we have given them a tour of the house, explaining what's what. We have been to all rooms to make sure that the baby knows their home. This might seem like overkill, I mean, that baby is brand new, and not even able to see 3 feet in front of their face. I hear you, but I do believe that it has been good for our babies that they have known the smells and feel of every room in the house. To me, it goes back to respect. I want my baby to know their home.
Family time.
While it's great to show baby off to everyone you know, make sure that you spend time alone in your new family. Mom, dad, baby and maybe older siblings. You all need time to find your places in the new family structure. Remember that while the new baby is just as important as any other member, they are not MORE important. You need to create a structure for family night so that everyone has a good time.
To us that has meant family time. A time where we are just together as a family with no outsiders. Is can be as simple as playing a board game, or bringing coffee and cake out into the garden. The important thing here is hygge – making sure that everyone has a great time. (Not sure what hygge is, I have a full guide explaining this danish concept and how it will change your life!)
Camera ready
You will NEVER be able to take TOO many pictures of those first days. I know it's a cliche, but time really does go by SO fast. While it's good to be in the moment and enjoy it, I do love having those photos to remember this amazing start of a new baby. I love that I just have a phone nearby, but remember to have someone shoot some pictures of you and the baby. While you might not love it right in the moment, it will be fantastic to have the pictures later on.
Rest and sleep when your baby is sleeping.
Whenever possible, REST. Take a nap, put your feet up, snuggle up in bed with your baby. Find the time to rest, leave everything else for a while. It will be there when you wake up again and the world starts spinning again.
If your baby is comfortable with it, arrange for a grandparent to come over and take the baby after you have feed them, and then get some rest in between now and the next feeding.
Enjoy this precious time with your newborn
This is the hardest time. Everything gets turned upside down and it's all crazy. But all you can do is enjoy this time. It is truly magical to be able to start a new life like this and witness all of those firsts. Enjoy, because before you know it it's all gone and baby is a toddler, with all of the joys that will bring you.
Bonus tip for siblings:
When you bring a baby home to older siblings we've always found a special toy from the baby to the older siblings. It's been small things but something that they really wanted. That way, they have had a toy to play with when we've been busy with the baby. We've found it to be a great way to keep the kids positive towards the new baby. While its no where near all weve done to keep siblings happy in transition time, its been a great start.
These are our top tips for bringing a baby home. Are you a parent? what's your best tips for bringing a baby home?
take care until next time
XO Malene.
Thanks for reading – you might also like:
[pt_view id="3259e9cmqd"]