One Mighty Family may earn a commission for purchases made after clicking links on this page.
Learn More.
Maintaining your sleeping bag in the right way will improve your sleep while camping! Not only that, by maintaining your sleeping bag you will make it last longer and save a lot of money.
To take proper care of a sleeping bag doesn't have to be a big time consuming thing. We have a process in place where all of the maintenance of our gear takes us about 1 hour, whenever we get home from a trip. Keep in mind that we are a family of 6, and we have done this many times. Once the systems and equipment for taking care of a sleeping bag is in place, it quite easy.
You might also like: Choosing the right sleeping bag for you
It's always a good idea to see the maintenance guide from the manufacturer because they describe the correct way to treat your individual sleeping bag. As a general description on how to maintain your sleeping bag, here is some simple steps to follow.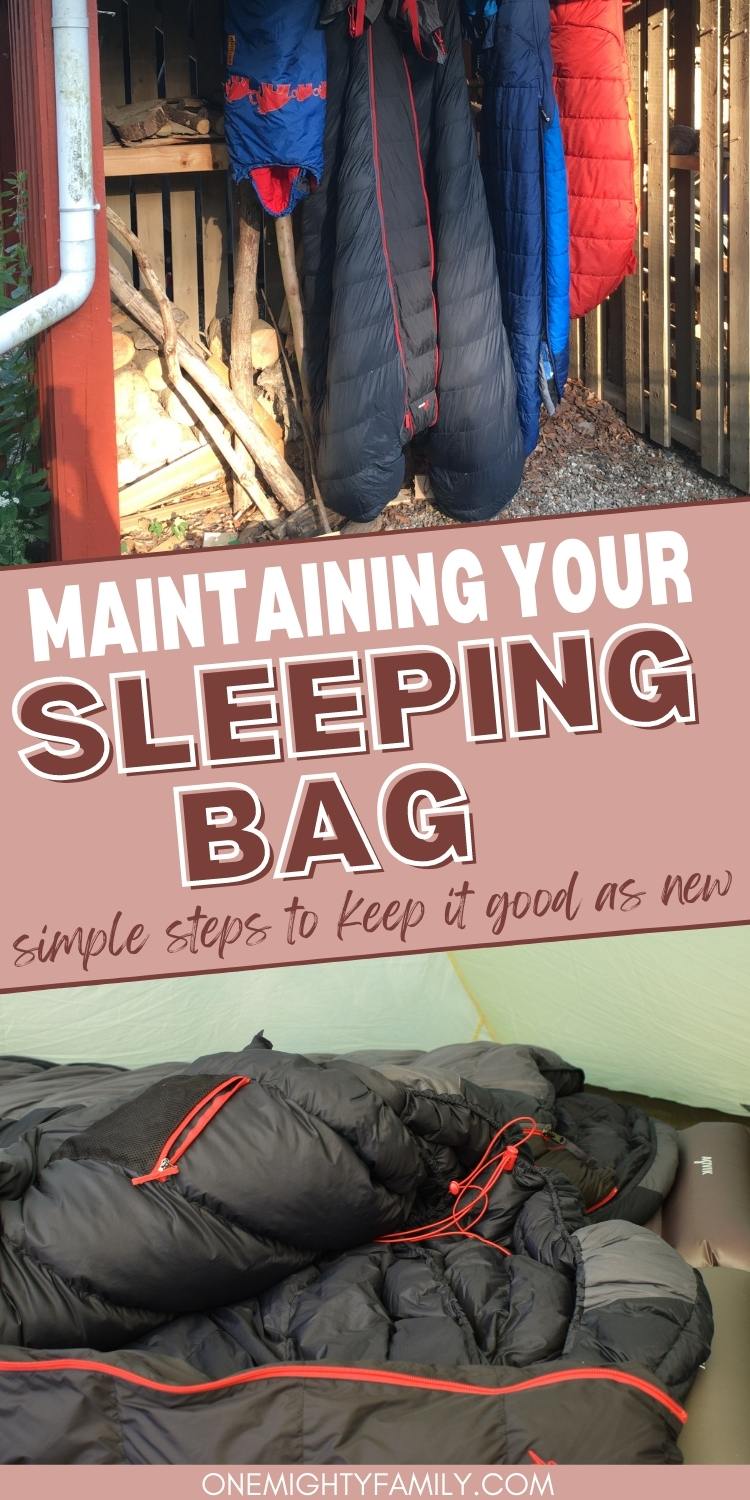 How to store and maintain a sleeping bag after a single nights use
Your sleeping bag is not dirty after you have slept in it for a night or two. Before its stored away it does need to be aired out. Airing out a sleeping bag can be done by hanging the sleeping bag upside down outside, in the fresh air, but in a sheltered spot, away from the rain. This could be in a garage, a shed or a covered drying rack. Leave the sleeping bag outside for a day or two to make sure that it's nice and aired. After you have aired out your sleeping bag it will have a nice, crisp smell. You then need to bring the sleeping bag inside to dry for another day or two. You need to make sure that it's completely dry before you pack it away and store it.
Maintaining a sleeping bag that is a little dirty
Sometimes your sleeping bag got dirty on a small area for the sleeping bag. There can be many reasons for this. Make sure you take a good look at your sleepingbag when you unwrap it to ensure that you find all the spots that might be muddy or dirty. If its only a small place, you can take a regular cloth and dry off the dirt. Just dip a cloth in some water, and make sure its not to wet when you use it. Its easier to do straight away when you get home. Once you have cleared off all of the dirt you can repeat the process to hang it outside, and then let it dry out completely before storing it.
What to do if your sleeping bag got very dirty.
Sometimes things happen while camping, and your sleeping bag needs a proper wash. The best way is to follow the instruction on sleeping bag. We make sure that when we buy sleeping bags we buy them so that they can be machine washed. Make sure that you dry it according to the recommendation on the sleeping bag. Make sure your sleeping bag is probably dried before storing it.
The best way to store your sleeping bag.
Sleeping bags like to be stored in a bigger bag than the compression stuff sack that follows with the sleeping bag. This goes for down and fiber bags. This allows the fibers to streach and the down to unfold completely. That ensures that they stay in ways that they will keep you warm on your next trip.
Some brand of sleeping bags come with a sack for storage if your sleeping bag don't have one, you can buy them separately.
How to pack your sleeping bag while you are away.
When you are away on a trip, always stuff your sleeping bag in to the compression stuff sack. Never fold and roll the sleeping bag. If you fold and roll the sleeping bag, the fibers or down inside the sleeping bag will be bend at the same place every time and over time these points of the sleeping bag will be colder. By stuffing it into the compression bag you keep these points random all over the sleeping bag and the wear on the sleeping bag will be less significant.

Common questions about maintaining a sleeping bag:
Can you put a sleeping bag in the washing machine?
This depends on the brand, and you want to make sure you always check the individual label, but yes. Most sleeping bags can be washed in a washing machine.
Can I put sleeping bag in dryer?
If you want to dry your sleeping bag in a dryer you want to make sure that it can handle the heat. Always make sure you check the label before you dry a sleeping bag in the dryer.
If drying out a down sleeping bag it can be benificial to dry i along with some tennis balls. These will jump around the dryer at random and punching the sleeping bag, making it dry out more easily.
How do you dry a sleeping bag after washing it?
If your sleeping bag can handle it, you can dry it in a dryer. This is great to make sure that you give it an even drying throughout the sleeping bag, and it is completely dry.

If your sleeping bag does not allow to be dried in a dryer, you can hang it in a sheltered, airy place and dry. Unless you are in a hurry, try and avoid direct sun drying as that can be extra hard on the materials.