One Mighty Family may earn a commission for purchases made after clicking links on this page.
Learn More.
When we go family camping one of the things that is always on my mind is what clothes to bring for my toddler. There are a lot of variables with toddlers that can mean that you brought to much, or to little clothes.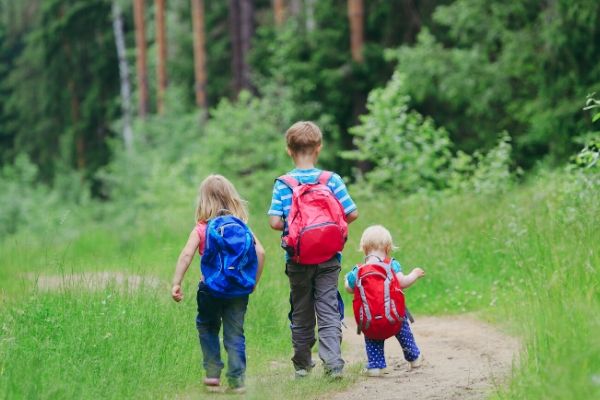 Now you know your toddler – if you have a toddler that finds every puddle within a 1 mile radius, you might want to bring more clothes.
Our family recently embarked on a journey to become a carbon neutral family by the year 2030 – that goes for camping equipment and clothes as well. We therefore urge you to consider the environment when you shop for clothes, and find sustainable solutions. If you can, look in your house to see what you already have that might be suitable for camping.
Toddler camping clothes
We always thing of camping clothes in terms of layers. This goes for our toddler as well. You can read all about dressing in layers here.
One of the most important points of that post is that you need to be able to take some clothes off, if you are to warm, and put something on if you are cold. That goes for toddlers as well.
Having layers for you toddlers help with regulating the heat, in small steps instead of having thick clothes in one layer that you can only either have on or take off.
You might also like: Tips on camping with toddlers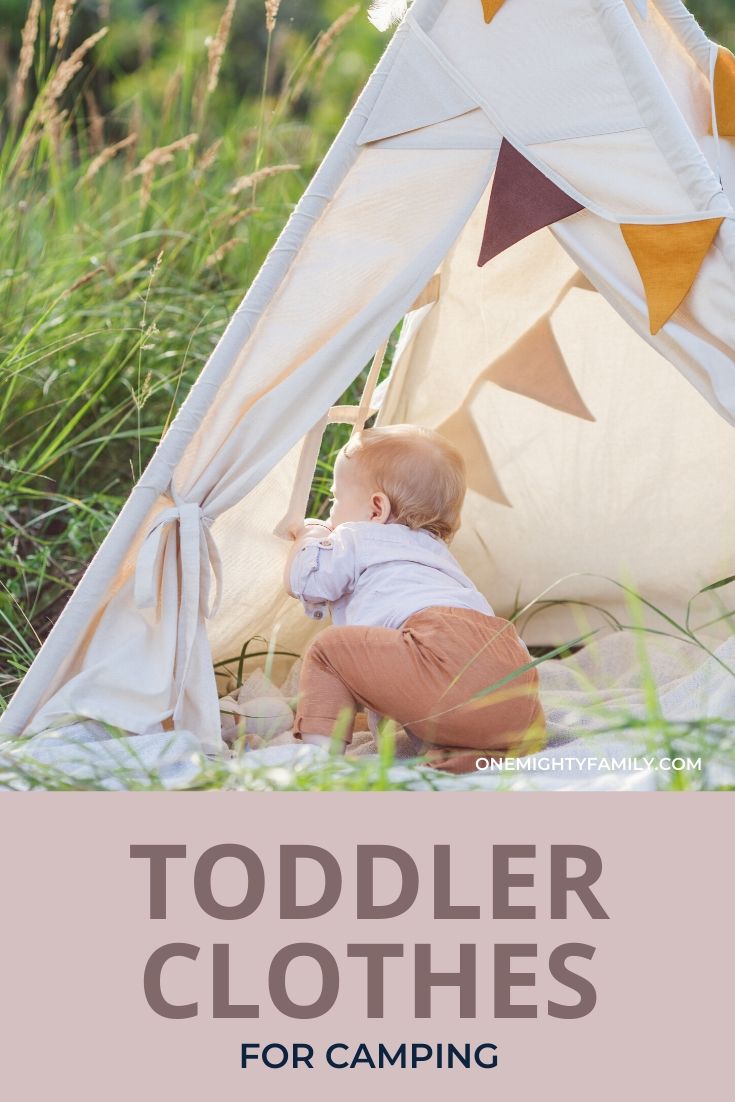 Base layer options for toddlers:
We love dressing our toddler in wool, in the inner layer. We live in Denmark and here the weather can be unstable most of the year. Wool as a base layer is great for toddlers as well. This is a great choice for wool – organic and 100% wool. If you camp in a warmer climate, consider getting a base layer that is made from cotton, like this set here. On the warmest of summer days you do not need a base layer. They do however, double great as a set of clothes to sleep in.
For those days where it is extra cold consider adding a pair of thick wool pants to your bag. We have some like these and they are fantastic to keep our toddler warm!
Middle layer clothes for a toddler
Add joggers and sweatshirts to your bag of clothes for camping with your toddler. Something that is easy to move around in, and something that drys easily.
Always consider the seasons, and especially how cold it gets at night. We have been caught out on a cool summer evening without a sweater for one of the kids – that is not cool. Always consider the day – maybe you need shorts and a tee-shirt, or a bodysuit if its a sunny day. And maybe you need something warmer for the middle layer if its a cool day.
TIP: Always bring an outfit pr day + one. If we are away for more than a week we also bring a little laundry detergent to be able to wash while away.
Coats and pants for toddlers for the outer layer.
Depending on how far along your toddlers is in their walking journey (how stable a walker your toddler is) you need extra good pants for your toddler.
When our toddler was learning to walk we have loved a whole suit for them, like this one. Use the rain suit you have, its just important to keep your toddler dry.
Socks and underwear for toddlers
Remember to bring an extra set of both socks and underwear. Both are essential to having a good time when camping. If you are dry on your feet and in the layer closest to your body, most other things doesn't matter.
Also remember how hot/cold it is. Maybe you want to bring some extra warm socks for sleeping. These should never be tight. Sleeping socks for toddlers should be loose and leave room for the feet to breathe.
Toddler sleeping clothes for camping
When it comes to toddler night clothes it is worth considering how warm your toddler is. You can read more of my thoughts on this in this post about how to get your toddler to sleep while camping. If you have some good base layer clothes, you could consider using the same clothes for sleeping.
You might also like: Best Sleeping Bags for Toddlers
What do you always bring camping when you go camping with your toddler?